3rd Boil - March 29th
March 30, 2015


Sunday was definitely the better choice of weekend days for another boil. Saturday was cold and snow flurried all day. Sunday started in the 20s, but the sun remained in the clear blue sky and the temperature rose into the 40s. I had accumulated about 75 gallons of sap and got the operation started at sun up. My neighbors Mike and Ray were early companions, and they really added to the effort. Mike has a real passion for sugaring and even his wife Carol joined in with the skimming and scooping. Thanks for all the help! (and coffee, donuts, pretzels, etc.). The boys spent some time at the pans, and of course my dad persevered to the end.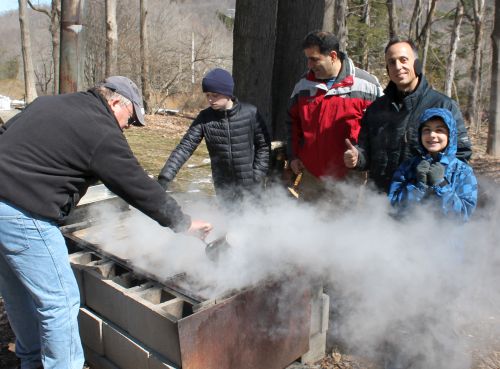 Mike, Scott, Ray, Greg, and Jonathan
Maple sugaring is always a good excuse to have my cousins come by and catch up with the family. Cousins Kathy and Jack have made it a tradition, and this year were joined by my cousin Karen and her son Ben who enjoyed learning the process and sampling the syrup along the way.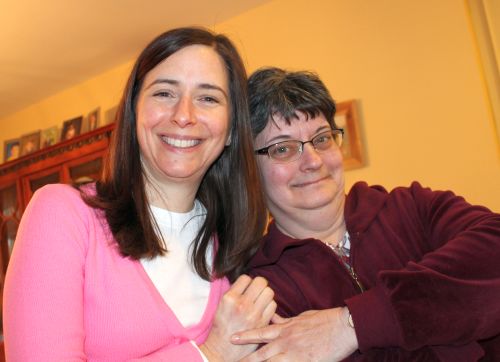 Dannielle and Kathy

Cousin Karen and mom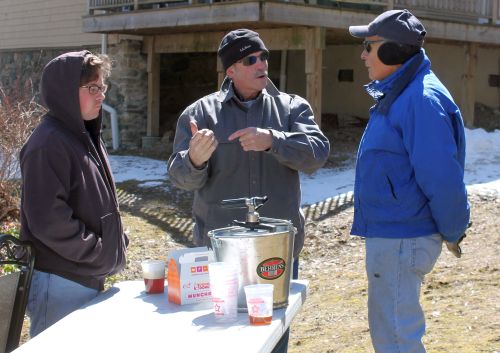 Ben, Jack, and Remo
As you can see, the beer keg was tapped around noon, which made the whole process more enjoyable. Dannielle (the Queen of SugarFest) kept everyone fed and entertained inside, while I got as smoky and sooty as I could outside. In the past, my goal was to simply bring the operation inside to finish before dark, but with all of the help and a really hot fire, we were inside, and finished, well before then.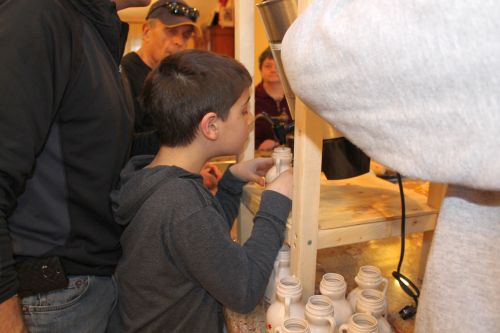 We ended up bottling another 1.5 gallons, a little less than I had hoped, but still enough to round out a respectable season. This year's long, cold winter really impacted the season by delaying it by almost a month. As usual, although the sap still flows, the calendar and commitments tell me that the season is over.