Double Boil Weekend
March 7, 2022


I had collected nearly 200 gallons of sap and spent a few days using reverse osmosis to remove over half of the water needed to make syrup, but would still require a great deal of boiling. With some back-of-the-envelope calculations, and a decent weather report, I decided I would boil one batch on Saturday and another on Sunday. Although cooler, Saturday was clear and bright, and I was boiling by 8:30 AM. Ex-neighbors Mindy and Eric stopped by to catch up and work the pans, and Jana came by to join the reunion. Even Dannielle spent enough time outside to acquire a smokey aroma. The boil went well with an approximate target of 2 gallons to be bottled later. I spent a little more time cleaning up and preparing the pans for Sunday to repeat the entire process.

There was rain forecasted for late Sunday morning, so I got an early start and was fully boiling by 8 AM. When you are working alone, you can get in a good zone of keeping the fire hot, with all pans boiling, and adding a lot of sap. After the sprinkles started, I setup a pop-up canopy over the evaporator which worked out well since it started raining pretty hard for some time. When you are trying to boil off water, you certainly don't want to add it back in the form of rain.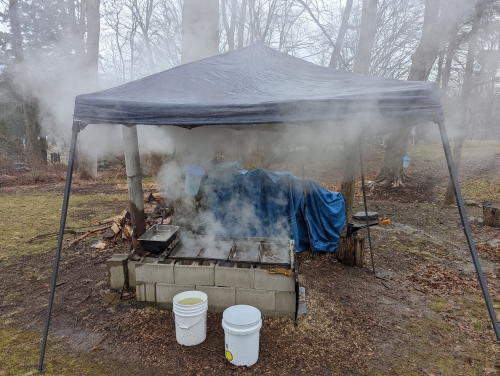 Boiling in the Rain
Coco was my faithful companion, but even though I setup a few shelters for her, she just doesn't get the concept, and became quite drenched.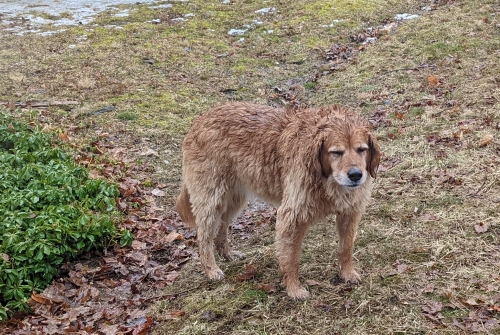 Very Wet Dog
Ray stopped by for a bit and helped me keep the rain out of the pans and hauled a few buckets.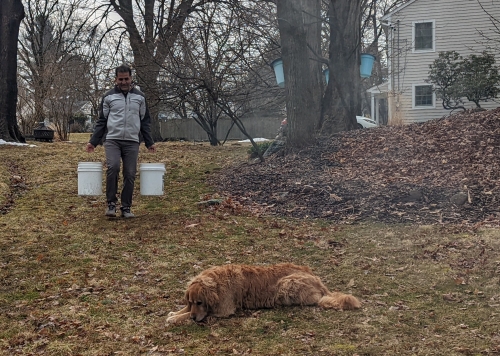 Ray Hauling Sap
With great focus, I was able to get all the sap into the pans by noon, which meant only a few more hours of reduction. Once the rain cleared and sun came out, so did some (fair weather?) friends. Barry, Jon, and first-timers Stanley and Brian all gathered as we drank beer and discussed many of the world's problem. The boil went well and was done quickly giving us more time to visit. Sadly, no pictures were taken, nor can I remember any of the solutions to any world problems.