First Boil of 2016 - February 21
February 21, 2016


With temperatures in the 50s, the weekend was a perfect time to boil. I took advantage of some time on Saturday to prepare and have everything ready to go so that all I had to do was get up with the sun and light the fire.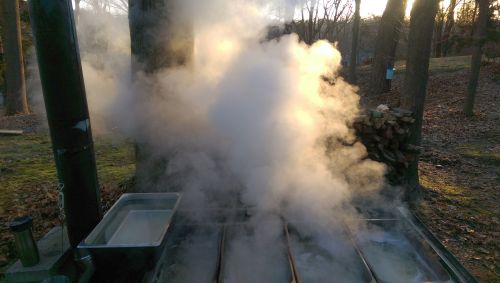 It didn't take long for some help to arrive with some breakfast treats. Thanks to Carol, Mike, Mindy, and Eric.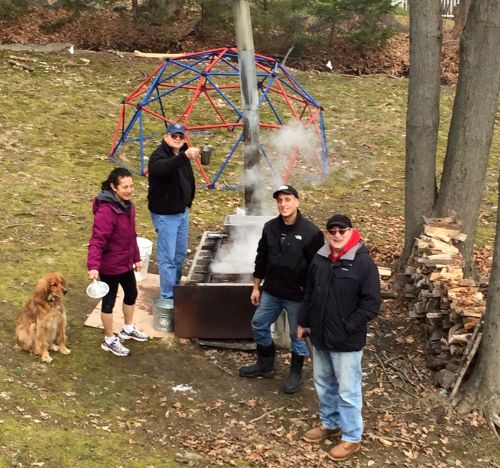 Conditions were perfect. The fire was hitting the pans just right for a full boil, and Mike kept them well fed with sap. Ray manned the skimmer and provided lunch for everyone with his homemade goulash (yum!). After noon, being filled with food and beer, we were revitalized and committed to boiling 80 gallons of sap. Brad came by to join the fun and was a big help with juggling the hot pans for the final transfer.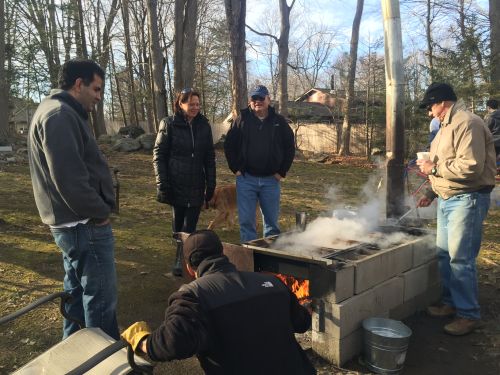 After reducing the 80 gallons down to a mere 3, I took the operation inside and bid adieu to my much appreciated help who put in a long and smoky day. After a quick final boil, I bottled just shy of 2 gallons. A respectable and expected amount.
After such a productive day, even Coco was exhausted!