First Boil of 2023
February 11, 2023


I had collected over 100 gallons of sap and concentrated it to 5% sugar using reverse osmosis, and the weather and my schedule were perfect for a Saturday boil. Having time to prepare everything on Friday, I got started at 7:00 am, and the pans were all boiling by 7:30 am.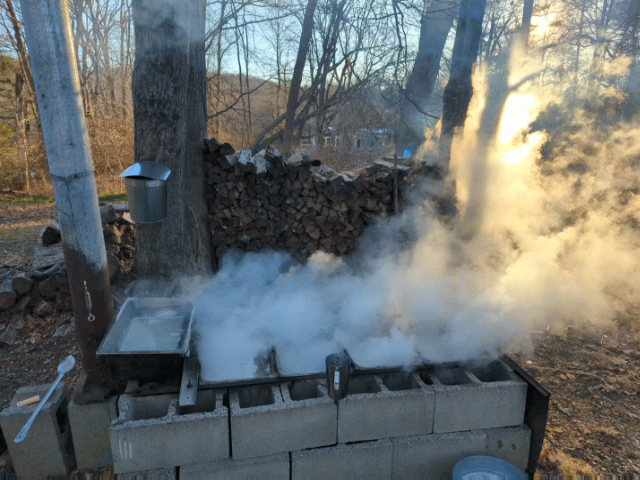 Coco has had a tough year, so I placed a comfy blanket on the ground so she could keep an eye out for visitors.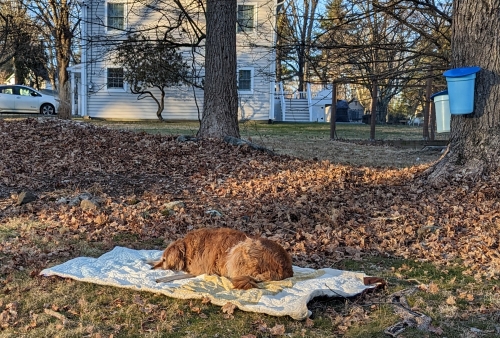 It wasn't long before Markus arrived with bagels and beer. Soon after, Duke came by to learn about the process, and brought a bottle of rye whiskey which will be perfect for maple old fashions. When people ask about how maple syrup is made, I stress the importance of having maple trees (duh) and explain the overall process, but maybe downplay the amount of effort and endurance needed to stand outside working the pans and feeding the fire for nearly 10 hours. For me, that endurance is fueled by lots of coffee, friends, and beer. Although I forgot to snap a picture of Markus and Duke, their contributions were greatly appreciated.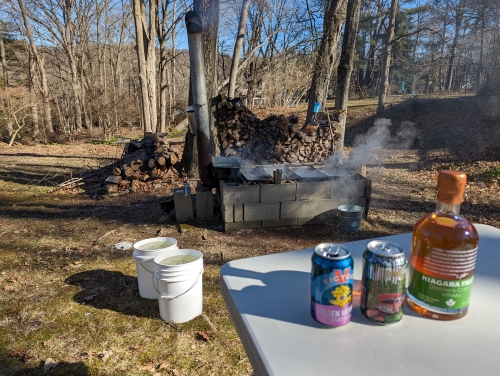 Jon brought Klaus the German Shepherd who Coco has avoided since he was a puppy due to his size and spirit, but they peacefully coexisted with some space (and a leash) between them. Mike also stopped by during his busy day to learn about the process.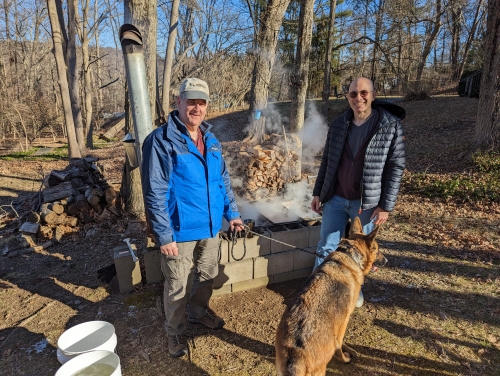 Jon, Mike, and Klaus

Eric brought non-believers Carolina (his daughter), and Bruce (his brother), who were quickly converted to members of the sticky sweet club.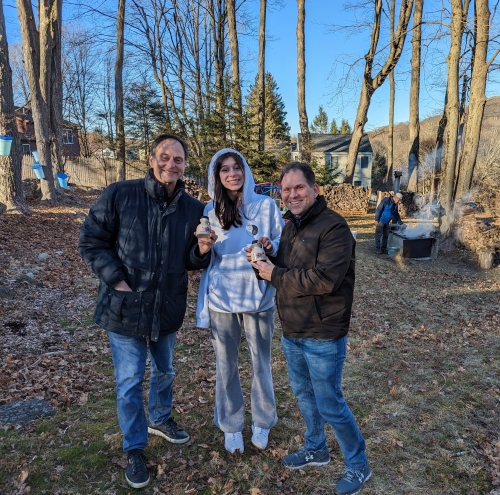 Eric, Carolina, and Bruce

The fire remained hot after adding all my collected sap, and I was able to reduce it all to about 5 gallons of nearly syrup, finishing around 6pm. I will finalize the rest of it inside at a later date with a hopeful yield of about 3 gallons.Thanks to all that stopped by and especially Jon for staying to the end.