First Boil of the Season - March 15th
March 15, 2015


It's been a strange season. The below freezing temperature of February, and much of March, preventing any sap escaping from the trees. Last week there were a few productive days, but I was only able to collect around 20 gallons of sap.
As it takes about 40 gallons of sap to make 1 gallon of syrup (see How Maple Syrup is Made), I knew the effort of boiling wouldn't yield much reward, but not knowing if this would be my only opportunity for the year, I charged ahead. There wasn't much pressure to rush out at dawn to start the fire, but with the well prepared wood, improved smokestack, and arch, things got boiling right away.
My trusty companion, and father, Remo was at my side as usual, this year joined by our new dog Coco, who enjoyed all the outside time and visitors. Jonathan also put some time in at the pans, learning more about skimming, transferring, fire management, and standing around.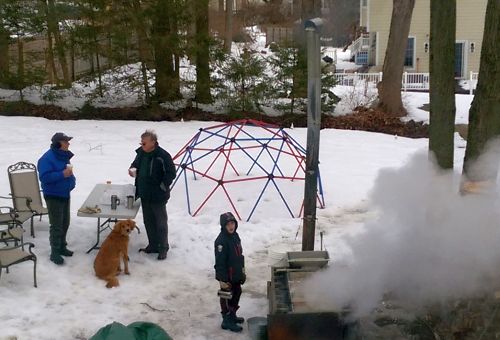 Remo, Coco, Mike, and Jonathan
Mike stopped by with breakfast and lent a hand throughout the boil (thanks!), as we debated over process improvements, surface area, and the virtue of patience. Markus, also joined in the fun and we brought the operation inside for the final boil just before noon.
There was just enough time to have a few pints before it was time to filter and bottle - only a few pints. The syrup was light, sweet, and delicious - there just wasn't that much.
At this point last year, I had boiled twice and produced two gallons (see Timeline), and in the following week (this week), collected over 80 gallons of sap! It's near the end of the season, and can only hope to get a similar boon. Much depends upon the dynamics of temperature consistently rising above freezing during the day and below freezing at night. I will keep one eye on the thermometer and the other on the trees.