Second Boil - 2017
February 26, 2017


Another successful boil today! It's been an unseasonably strange week, without a lot of sap production, but I had a lot in storage. Saturday temperatures were in the sixties, but threatened rain, so I planned for Sunday, which barely reached 40 degrees. The boys had restacked the wood pile and covered it to keep it dry during the week, so I was ready - up at sunrise and boiling by 7 AM. My neighbor Mike has got sugar in his blood and missed last week, so he was ready to go as well and spent the day outside with me.
On most days, I would wait until noon before partaking in adult beverages, but I make a special dispensation when sugaring, and start at 11:30. It seems to make the process go quicker (but might actually take longer).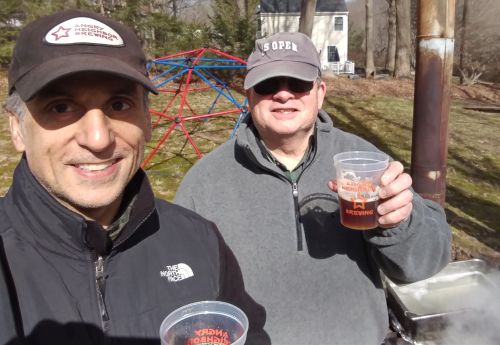 Greg and Mike
My target yield was 1.5 gallons (of syrup, not beer), and we had 65 gallons of sap in by 1 PM and had all four pans rolling with a boil.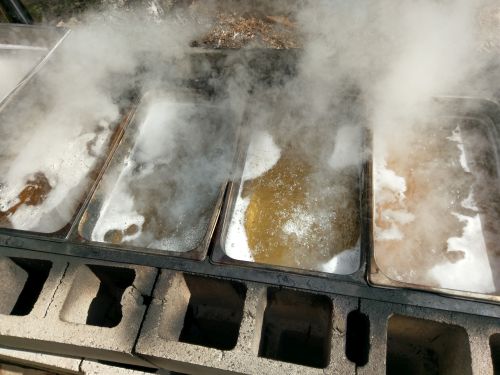 A huge thanks to Carol for not only lending me Mike for the day, but for providing muffins in the morning and meatball sandwiches for lunch. Yum! Coco no longer barks when Carol comes because everytime she comes, she brings food.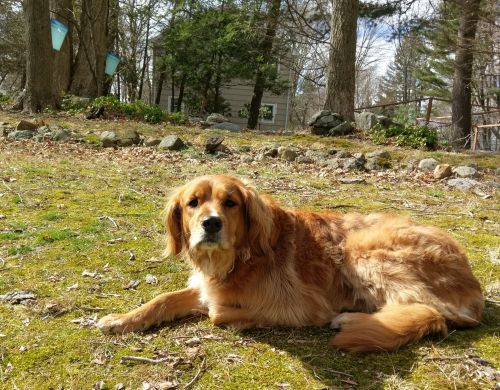 The welcome wagon
We brought the operation inside early to warm up from the cold, and Eric came by to help in the bottling process. The result was sticky, sweet, and 1.5 gallons.
There haven't been any drips of sap for a few days, as temperatures haven't dipped below freezing. With my eye on the calendar and the forecast, I'm hoping to fit in another boil on March 11th.