Second Boil of 2019
February 24, 2019


A good week of sap harvesting, along with good weather and an open schedule, allowed for another boil on Saturday, February 23, 2019. The Reverse Osmosis (RO) system processed the sap on Friday, which removed half of the water prior to boiling. I am really appreciating the time and effort saved in using this system. Thanks science!
Saturday was sunny and comfortable to stand out by the fire. My neighbor Mike was the first to come by and brought some much-appreciated breakfast. Mike has been helping out for years and really seems to enjoy the process. He jumps right in and works the pans like a pro which is great so that I don't need to act like a frantic octopus. Mindy and Eric came back to the neighborhood to visit and brought more treats. The boys also put in some quality time at the pans and are hopefully in training to take over for me some day. Maybe I will be able to simply direct them from a comfortable chair.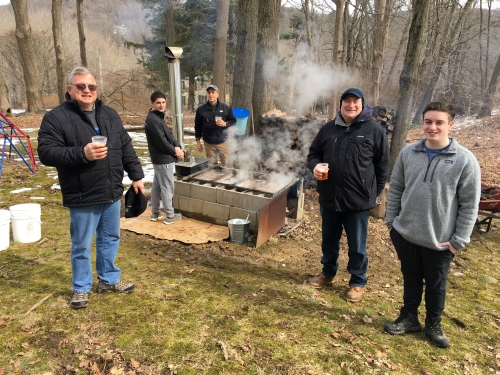 Mike, Jonathan, Greg, Eric, and Scott
Happy hour starts early on a boiling day, so we tapped a mini-keg, and explained the maple process to first-timer, Jon who came by just in time to enjoy a lunch catered by Dannielle. We finished up outside at around 4 PM, which achieved my goal of not having to boil in the dark.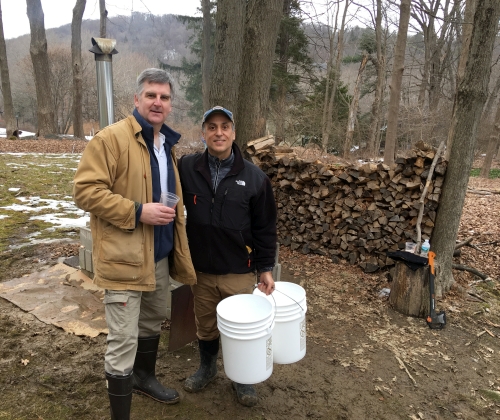 Jon and Greg
As has been my new modus operandi, I left the bottling until the next day, which reduces the pressure, time commitment, and potential for mistakes. I bottled nearly two gallons of syrup. Yummy and sweet, and just a bit darker than the first batch as is expected.
The sap is still flowing and there is at least another boil in me for the season. I really want to capitalize on the improved process and hoping for a banner year.