Syrup Making - March 2, 2013
March 3, 2013


Well it was another long and successful day at Mount Kisco Maple! I had a full crew to assist and we got into a groove and managed to push about 70 gallons of sap through for a yield of about 1.5 gallons of syrup.
A big thanks to Mike Freel, Markus Schmutz, and of course my dad.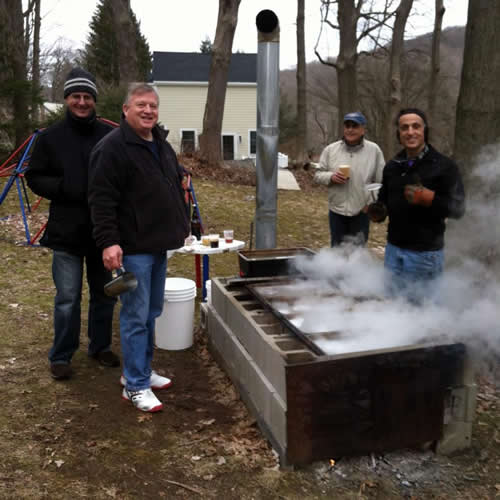 Markus, Mike, Remo and Greg
The weather was nice, not being too cold, and a few snowflakes added to the effect of the event. Markus hauled the raw sap, Mike was the super scooper moving sap through the evaporator, and Remo kept the fire burning. With the pans at full capacity, it was tough to keep the fire hot enough to boil, but we managed to finish outside just after dark.
With the operation inside for finishing, I was able to try out the new filtering and bottling station – a wooden frame to hold the filter with the syrup draining into a new coffee urn for collection and dispensing.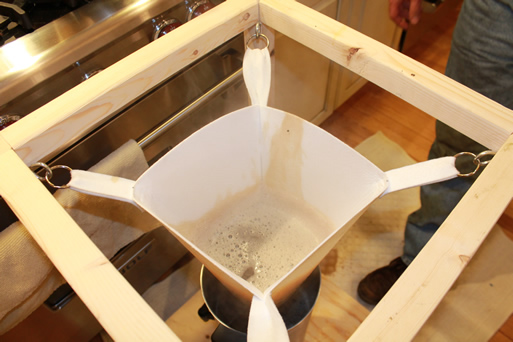 It worked beautifully, and I was able to easily bottle into the new half-pint containers.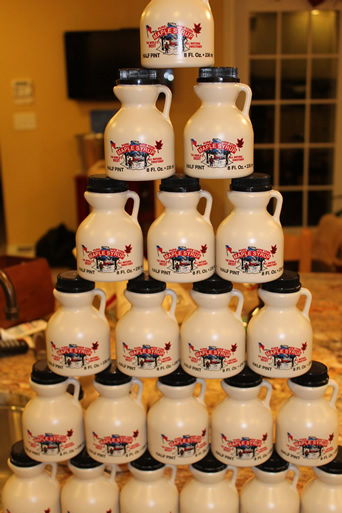 Recovering the next day, my mind turns to ways to improve the process and reduce the amount of time needed. Will next time be in two weeks or forty nine?