Third Boil of 2019
March 17, 2019


Conditions have been perfect for sap production, and a few days resulted in 25 gallons of sap each. In no time I had over 150 gallons of sap. I used the days ahead of the scheduled boil date to put the reverse osmosis system to good use, reducing the sap to around half the volume and 5% sugar.
My neighbor Markus came by early to help out. He had missed out the past couple years and had the need for steam.
Since it was Sunday, the last boil, and St. Patrick's Day, we planned on having my cousins and parents come to visit. Everyone brought delicious goodies. Dannielle (the Maple Queen) made corned beef and cabbage in the instant pot and did the inside entertaining while I spent the day outside supervising the boil. Mark really knows his way around a syrup pan, and was a huge help. That guy is welcome any time.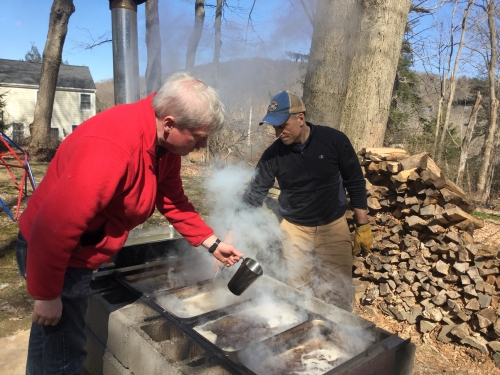 Mark - Employee of Month
I didn't get a chance to spend too much time catching up with the others, but every once in a while they would come out, bring me food, and say encouraging words like, "boy it's really cold out here," or "is this really worth it?", or "can't you just buy maple syrup?"... Inspirational!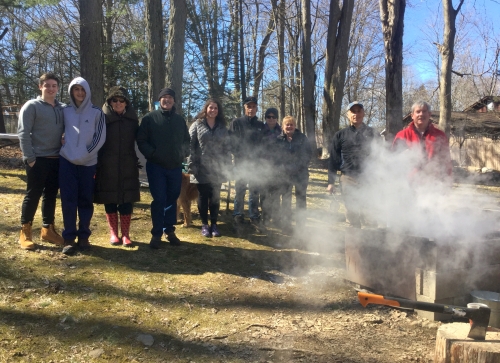 The whole gang
It was great to see everyone, and after they left, the shadows were getting long and I was still out there boiling. The boys took shifts assisting me and keeping me company, likely at the behest of their mother. My main goal of getting inside before dark was achieved, and I filled up a 5 gallon bucket with near syrup to finish another day.