Welcome to Mount Kisco Maple
Read about the latest maple syrup happenings in Mount Kisco, New York.
---
February 11, 2023
I had collected over 100 gallons of sap and concentrated it to 5% sugar using reverse osmosis, and the weather and my schedule were perfect for a Saturday boil. Having time to prepare everything on Friday, I got started at 7:00 am, and the pans were all boiling by 7:30 am.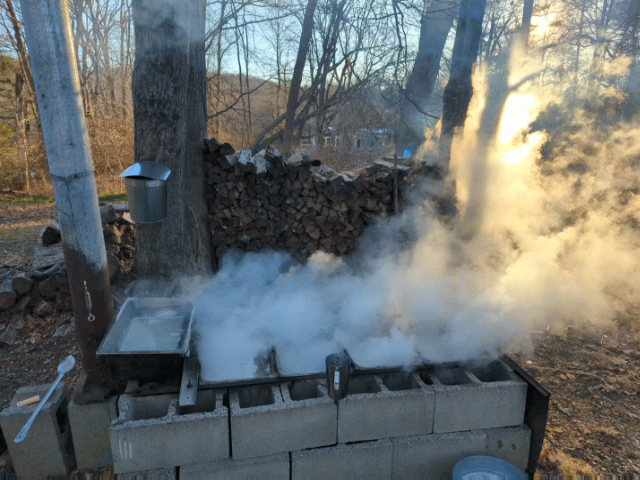 Coco has had a tough year, so I placed a comfy blanket on the ground so she could keep an eye out for visitors.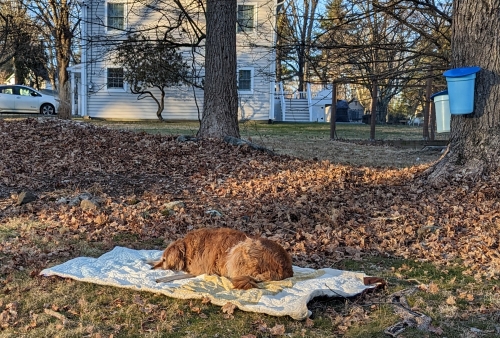 It wasn't long before Markus arrived with bagels and beer. Soon after, Duke came by to learn about the process, and brought a bottle of rye whiskey which will be perfect for maple old fashions. When people ask about how maple syrup is made, I stress the importance of having maple trees (duh) and explain the overall process, but maybe downplay the amount of effort and endurance needed to stand outside working the pans and feeding the fire for nearly 10 hours. For me, that endurance is fueled by lots of coffee, friends, and beer. Although I forgot to snap a picture of Markus and Duke, their contributions were greatly appreciated.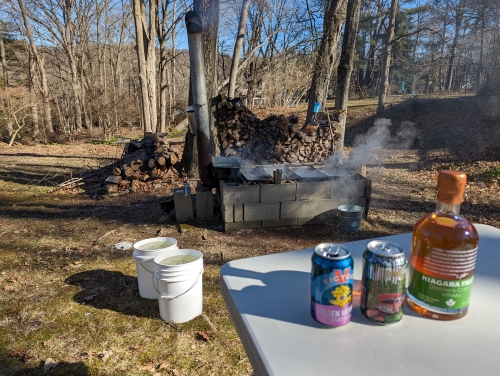 Jon brought Klaus the German Shepherd who Coco has avoided since he was a puppy due to his size and spirit, but they peacefully coexisted with some space (and a leash) between them. Mike also stopped by during his busy day to learn about the process.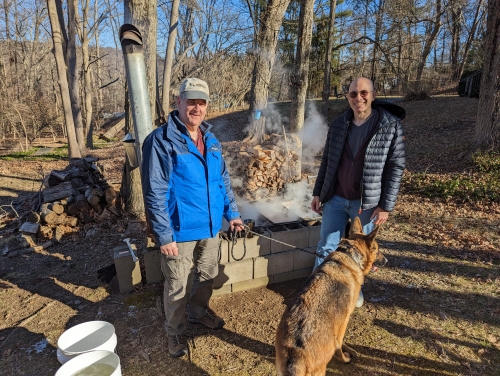 Jon, Mike, and Klaus

Eric brought non-believers Carolina (his daughter), and Bruce (his brother), who were quickly converted to members of the sticky sweet club.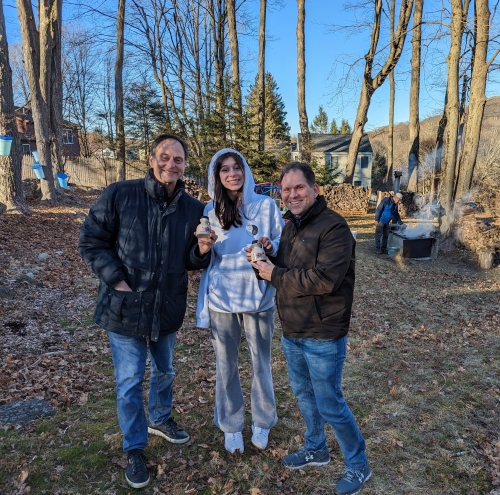 Eric, Carolina, and Bruce

The fire remained hot after adding all my collected sap, and I was able to reduce it all to about 5 gallons of nearly syrup, finishing around 6pm. I will finalize the rest of it inside at a later date with a hopeful yield of about 3 gallons.Thanks to all that stopped by and especially Jon for staying to the end.
---
February 7, 2023
The trees have been tapped for about a week, but the cold snap prevented any real production. The past few warm days have already resulted in over 55 gallons of sap, so it looks like we'll be boiling soon.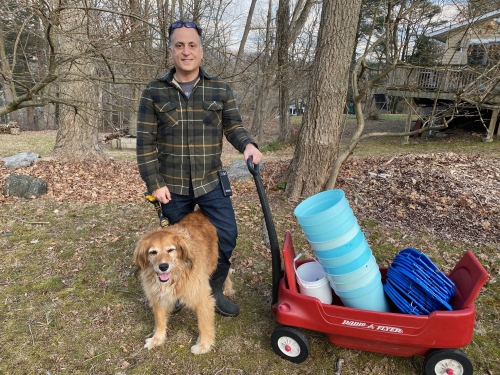 Coco and the tap wagon.
---
March 7, 2022
I had collected nearly 200 gallons of sap and spent a few days using reverse osmosis to remove over half of the water needed to make syrup, but would still require a great deal of boiling. With some back-of-the-envelope calculations, and a decent weather report, I decided I would boil one batch on Saturday and another on Sunday. Although cooler, Saturday was clear and bright, and I was boiling by 8:30 AM. Ex-neighbors Mindy and Eric stopped by to catch up and work the pans, and Jana came by to join the reunion. Even Dannielle spent enough time outside to acquire a smokey aroma. The boil went well with an approximate target of 2 gallons to be bottled later. I spent a little more time cleaning up and preparing the pans for Sunday to repeat the entire process.

There was rain forecasted for late Sunday morning, so I got an early start and was fully boiling by 8 AM. When you are working alone, you can get in a good zone of keeping the fire hot, with all pans boiling, and adding a lot of sap. After the sprinkles started, I setup a pop-up canopy over the evaporator which worked out well since it started raining pretty hard for some time. When you are trying to boil off water, you certainly don't want to add it back in the form of rain.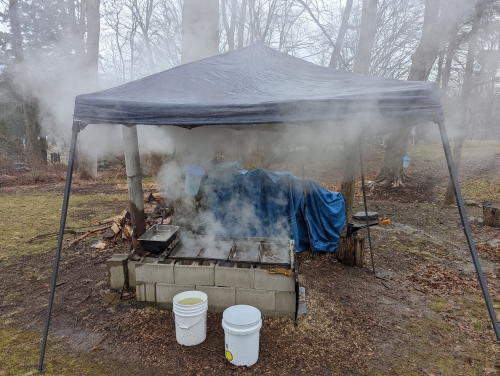 Boiling in the Rain
Coco was my faithful companion, but even though I setup a few shelters for her, she just doesn't get the concept, and became quite drenched.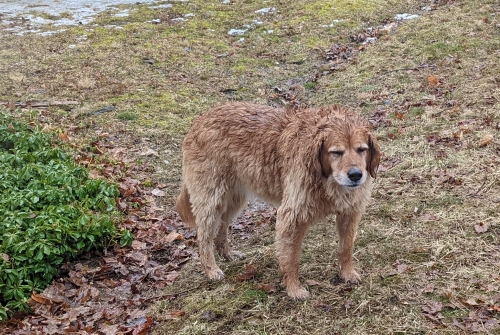 Very Wet Dog
Ray stopped by for a bit and helped me keep the rain out of the pans and hauled a few buckets.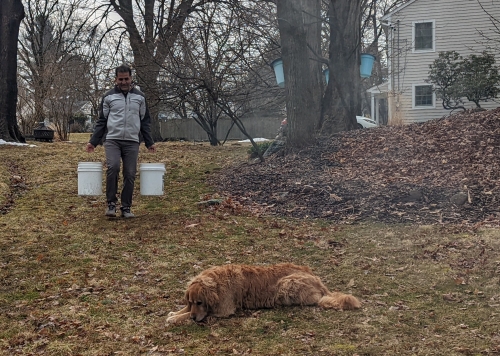 Ray Hauling Sap
With great focus, I was able to get all the sap into the pans by noon, which meant only a few more hours of reduction. Once the rain cleared and sun came out, so did some (fair weather?) friends. Barry, Jon, and first-timers Stanley and Brian all gathered as we drank beer and discussed many of the world's problem. The boil went well and was done quickly giving us more time to visit. Sadly, no pictures were taken, nor can I remember any of the solutions to any world problems.
---
February 26, 2022
One indicator of reaching the syrup stage is the way it flows off a spoon like a sheet rather than a drip. I noticed this behavior when I poured off from the evaporator pans on Monday. A quick refractometer measurement showed 66 Brix, so I quickly brought things to a boil on the stove and filtered. It's been a while since mom and dad have visited and Remo took up his position as hot-capper, and we ended up with an expected two gallons.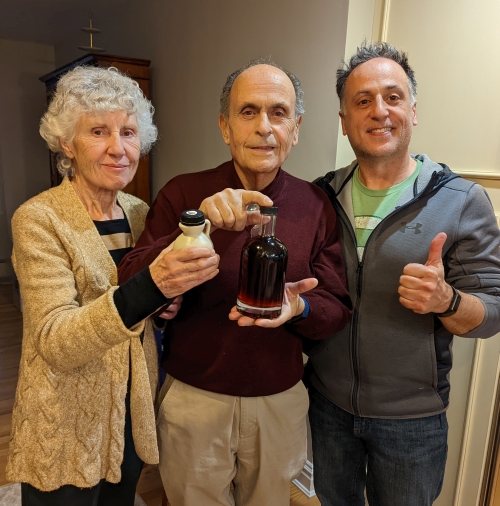 Kathy, Remo, and Greg

All News