Welcome to Mount Kisco Maple
Read about the latest maple syrup happenings in Mount Kisco, New York.
---
March 23, 2019
Splitting up the boiling and bottling processes have made everything more manageable, as they can both take a long time, especially at higher volumes.
Water boils at 212 degrees, and syrup boils at 219. I got my near-syrup up to a boil and it was already at 215. You have to keep an eye on the pot as it tends to foam up just before it's ready, and can overflow resulting in a sticky, marriage-damaging, stove-top mess.
Once it hits 219, it needs to be filtered before bottling. This remove impurities, "sugar sand", and "niter", which are all by-products of boiling sugar. I use a rig that holds the cone filters and the syrup drains into a coffee urn that I can plug in to keep the syrup warm while using the spout to more easily dispense into jugs.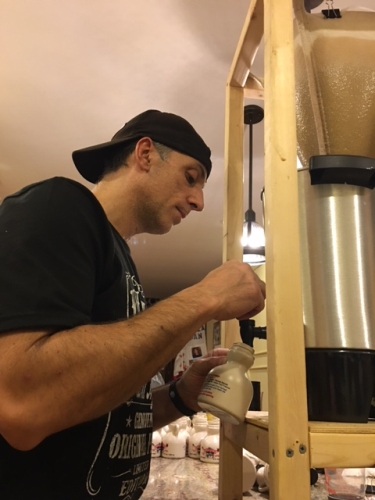 Bottling rig
It's good to have some extra hands at this point, and Dannielle did the capping as well as narrating any syrup drips or spills. Both kept her quite busy.
With so much syrup, I had to rinse out the filters and reheat a few times to keep things moving along. I ended up with 3 gallons which was close to what I predicted. The syrup was darker as expected later in the season, and the bolder flavor was sampled and enjoyed. Next year I may ramp up to some pint jugs as well as the half-pints.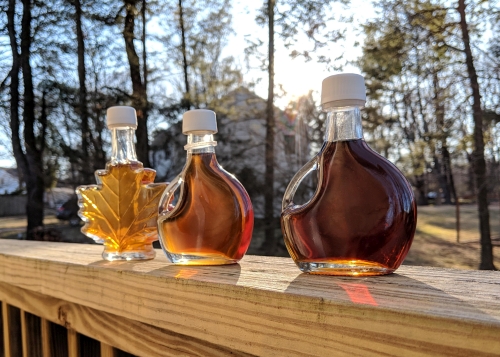 1st, 2nd, and 3rd batches of 2019
---
March 22, 2019
Only a few trees have been producing sap, and I have never done a boil past March 17th, in fear that the syrup would be too dark and bitter - which is what happens late in the season. So with the help of a few more dogs, I took my little red wagon, pulled out the taps and gathered buckets and lids. The holes will heal up naturally, and next year I will be sure to tap in a new location on the trees to keep them healthy for many years. I have a big day of washing all of the related equipment ahead of me.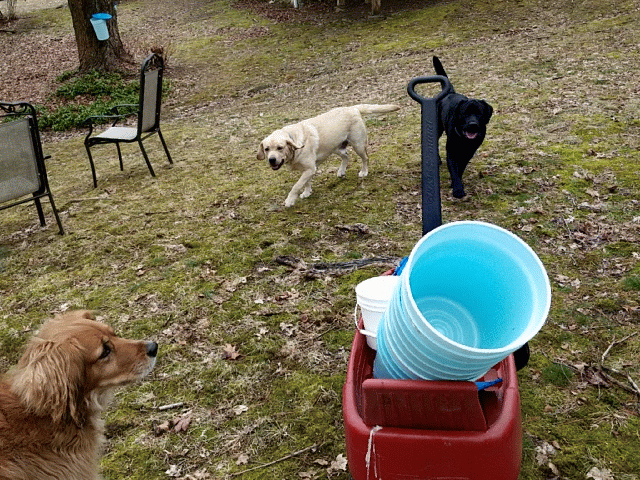 ---
March 17, 2019
Conditions have been perfect for sap production, and a few days resulted in 25 gallons of sap each. In no time I had over 150 gallons of sap. I used the days ahead of the scheduled boil date to put the reverse osmosis system to good use, reducing the sap to around half the volume and 5% sugar.
My neighbor Markus came by early to help out. He had missed out the past couple years and had the need for steam.
Since it was Sunday, the last boil, and St. Patrick's Day, we planned on having my cousins and parents come to visit. Everyone brought delicious goodies. Dannielle (the Maple Queen) made corned beef and cabbage in the instant pot and did the inside entertaining while I spent the day outside supervising the boil. Mark really knows his way around a syrup pan, and was a huge help. That guy is welcome any time.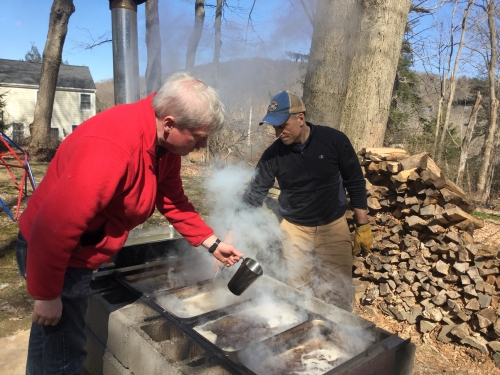 Mark - Employee of Month
I didn't get a chance to spend too much time catching up with the others, but every once in a while they would come out, bring me food, and say encouraging words like, "boy it's really cold out here," or "is this really worth it?", or "can't you just buy maple syrup?"... Inspirational!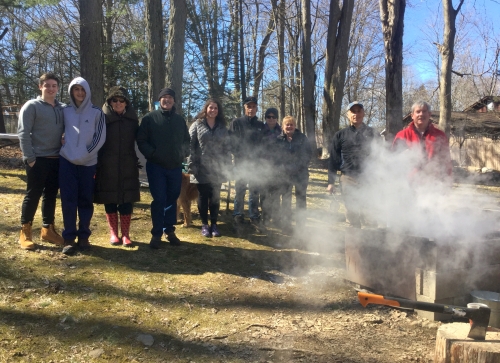 The whole gang
It was great to see everyone, and after they left, the shadows were getting long and I was still out there boiling. The boys took shifts assisting me and keeping me company, likely at the behest of their mother. My main goal of getting inside before dark was achieved, and I filled up a 5 gallon bucket with near syrup to finish another day.
---
February 24, 2019
A good week of sap harvesting, along with good weather and an open schedule, allowed for another boil on Saturday, February 23, 2019. The Reverse Osmosis (RO) system processed the sap on Friday, which removed half of the water prior to boiling. I am really appreciating the time and effort saved in using this system. Thanks science!
Saturday was sunny and comfortable to stand out by the fire. My neighbor Mike was the first to come by and brought some much-appreciated breakfast. Mike has been helping out for years and really seems to enjoy the process. He jumps right in and works the pans like a pro which is great so that I don't need to act like a frantic octopus. Mindy and Eric came back to the neighborhood to visit and brought more treats. The boys also put in some quality time at the pans and are hopefully in training to take over for me some day. Maybe I will be able to simply direct them from a comfortable chair.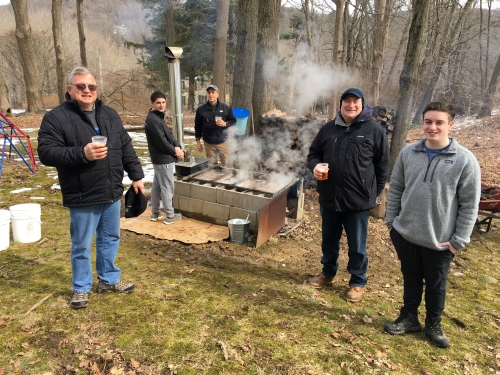 Mike, Jonathan, Greg, Eric, and Scott
Happy hour starts early on a boiling day, so we tapped a mini-keg, and explained the maple process to first-timer, Jon who came by just in time to enjoy a lunch catered by Dannielle. We finished up outside at around 4 PM, which achieved my goal of not having to boil in the dark.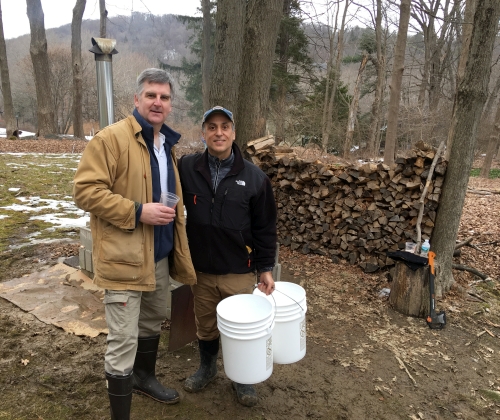 Jon and Greg
As has been my new modus operandi, I left the bottling until the next day, which reduces the pressure, time commitment, and potential for mistakes. I bottled nearly two gallons of syrup. Yummy and sweet, and just a bit darker than the first batch as is expected.
The sap is still flowing and there is at least another boil in me for the season. I really want to capitalize on the improved process and hoping for a banner year.

All News