Welcome to Mount Kisco Maple
Read about the latest maple syrup happenings in Mount Kisco, New York.
---
February 28, 2021
A poorly titled announcement. Traditionally, I tap the trees on Super Bowl Sunday, but this year the temperature was below freezing until much later. I tapped 20 trees on February 16th, and a few of my neighbor Ray's trees a few days later. There were a few good days of sap running, and I've collected over 100 gallons of sap. I just ran it through reverse osmosis to about half the original volume and 4% sugar.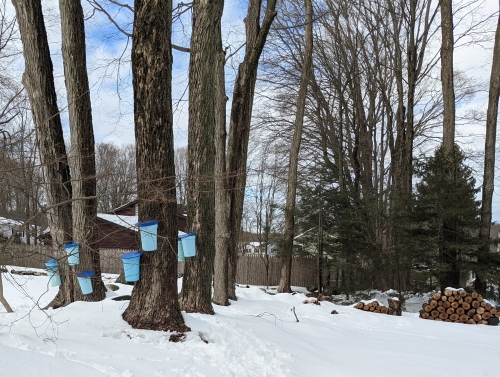 I will be boiling tomorrow, March 1st, the latest first boil in the last 10 years. Oh yes, this is my 10th year making maple syrup! Ten years ago, I spent almost an entire day outside to yield about a quart of maple syrup, and tomorrow only a few hours for over a gallon. My schedule is much more flexible this year; working from home and no social obligations. I can gather sap any time, and do some boiling between meetings. Like last year, when we became more aware of COVID, I don't expect many visitors to gather around the fire with me, but I will look back at the gallery photos, smiling about the good times over the past ten years, and looking forward to the next.
---
February 24, 2021
I'm writing this at the start of the 2021 season. I can barely remember the details of last season except that it was unremarkable but successful. The COVID-19 virus became a reality for everyone in March and I had mostly solo boils. I started working-from-home on March 13th, and pictured below is cleanup day on March 14th.
Most seasons have been a tricky balance of timing... Gathering sap before or after work. Finding time on busy weekends to boil. Working with the weather. The good news is that since I am always at home, a lot of the pressure is off and I will have a lot more flexibility to get things done. It will also be nice to have something else to focus on.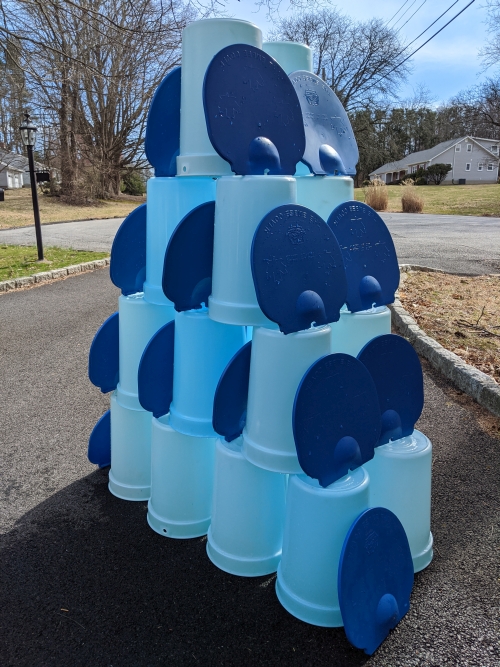 ---
February 22, 2020
Things are happening here at Mt Kisco Maple. I have already had two small boils, producing just under one gallon of syrup each time. The sap collections have not been huge, but having 20 taps provides some options even during a slow week. Collecting around 45 gallons and running it through the reverse osmosis (RO) system, makes for a short boil day. If I start at sun up, I am certainly done by 1 PM. Choosing to finish the syrup at another time also provides a lot of freedom and flexibility.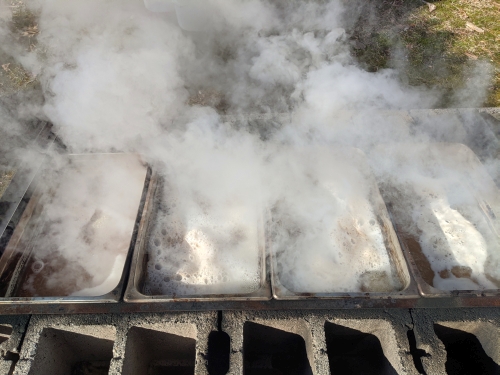 My neighbor Mike has been a great help and really knows how to work the pans.

Mike working the pans
This year, I followed up with an improvement to monitor the temperature during the finishing process with a high temperature probe, microcontroller board, and custom software. I also added a refractometer capable of measuring the sugar content of syrup. I'm always searching for ways to make the process more efficient.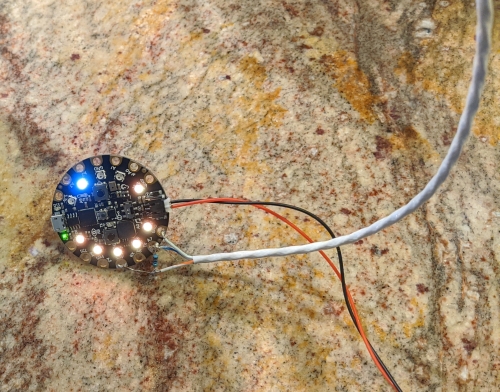 I'm planning to have another boil tomorrow, and hoping for a big final boil near St. Patrick's Day.
---
January 26, 2020
Typically I tap the trees on Super Bowl Sunday, but the weather conditions have all the maple sugarers champing at the bit, and I could hold out no longer. When you seek the help of teenagers, you have to wait unitl they wake up (after noon). Scott was available to assist with the drilling, tapping and hanging of the buckets. And of course Coco assisted as much as she could.
I am up to 20 taps and conditions look good this week for sap production, so I could be boiling Saturday if all goes well.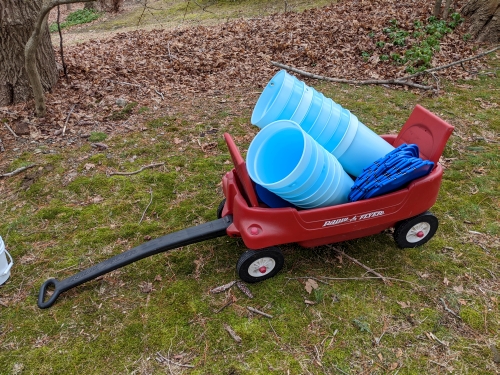 The tapping wagon.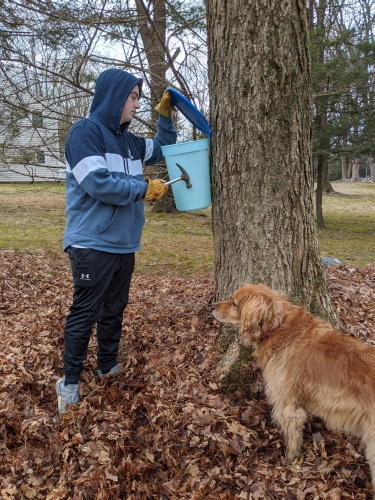 Workers working. (Scott and Coco)

All News