Welcome to Mount Kisco Maple
Read about the latest maple syrup happenings in Mount Kisco, New York.
---
February 22, 2020
Things are happening here at Mt Kisco Maple. I have already had two small boils, producing just under one gallon of syrup each time. The sap collections have not been huge, but having 20 taps provides some options even during a slow week. Collecting around 45 gallons and running it through the reverse osmosis (RO) system, makes for a short boil day. If I start at sun up, I am certainly done by 1 PM. Choosing to finish the syrup at another time also provides a lot of freedom and flexibility.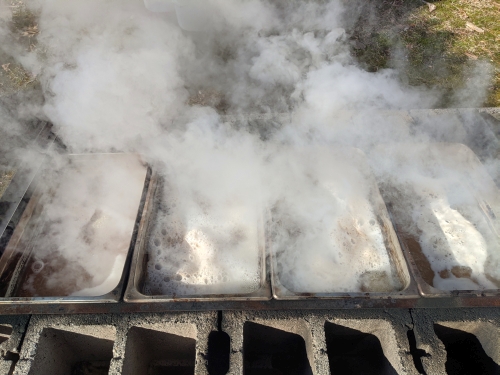 My neighbor Mike has been a great help and really knows how to work the pans.

Mike working the pans
This year, I followed up with an improvement to monitor the temperature during the finishing process with a high temperature probe, microcontroller board, and custom software. I also added a refractometer capable of measuring the sugar content of syrup. I'm always searching for ways to make the process more efficient.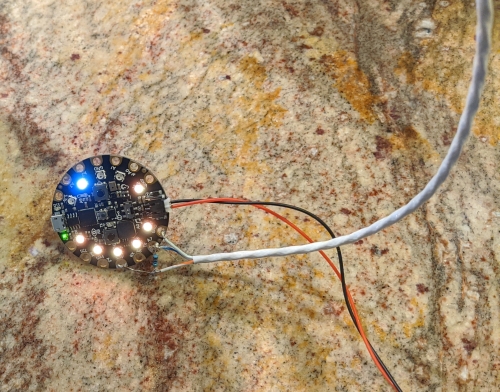 I'm planning to have another boil tomorrow, and hoping for a big final boil near St. Patrick's Day.
---
January 26, 2020
Typically I tap the trees on Super Bowl Sunday, but the weather conditions have all the maple sugarers champing at the bit, and I could hold out no longer. When you seek the help of teenagers, you have to wait unitl they wake up (after noon). Scott was available to assist with the drilling, tapping and hanging of the buckets. And of course Coco assisted as much as she could.
I am up to 20 taps and conditions look good this week for sap production, so I could be boiling Saturday if all goes well.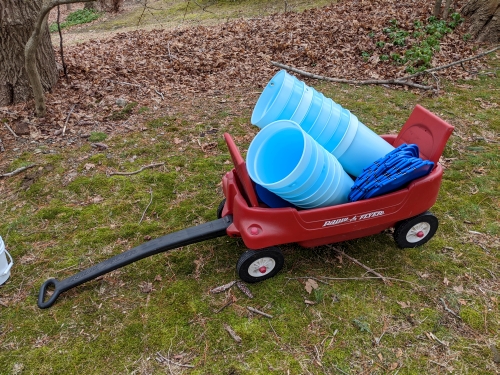 The tapping wagon.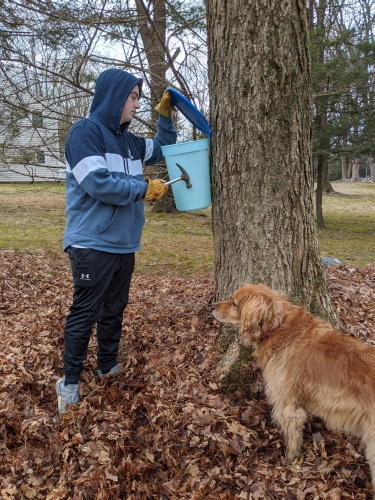 Workers working. (Scott and Coco)
---
March 23, 2019
Splitting up the boiling and bottling processes has made everything more manageable, as they can both take a long time, especially at higher volumes.
Water boils at 212 degrees, and syrup boils at 219. I got my near-syrup up to a boil and it was already at 215. You have to keep an eye on the pot as it tends to foam up just before it's ready, and can overflow resulting in a sticky, marriage-damaging, stove-top mess.
Once it hits 219, it needs to be filtered before bottling. This remove impurities, "sugar sand", and "niter", which are all by-products of boiling sugar. I use a rig that holds the cone filters and the syrup drains into a coffee urn that I can plug in to keep the syrup warm while using the spout to more easily dispense into jugs.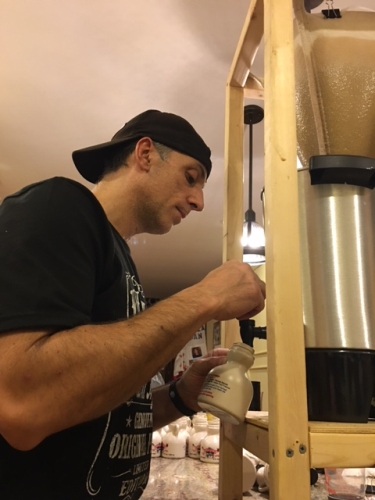 Bottling rig
It's good to have some extra hands at this point, and Dannielle did the capping as well as narrating any syrup drips or spills. Both kept her quite busy.
With so much syrup, I had to rinse out the filters and reheat a few times to keep things moving along. I ended up with 3 gallons which was close to what I predicted. The syrup was darker as expected later in the season, and the bolder flavor was sampled and enjoyed. Next year I may ramp up to some pint jugs as well as the half-pints.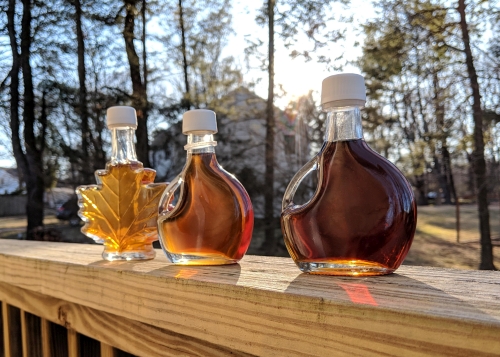 1st, 2nd, and 3rd batches of 2019
---
March 22, 2019
Only a few trees have been producing sap, and I have never done a boil past March 17th, in fear that the syrup would be too dark and bitter - which is what happens late in the season. So with the help of a few more dogs, I took my little red wagon, pulled out the taps and gathered buckets and lids. The holes will heal up naturally, and next year I will be sure to tap in a new location on the trees to keep them healthy for many years. I have a big day of washing all of the related equipment ahead of me.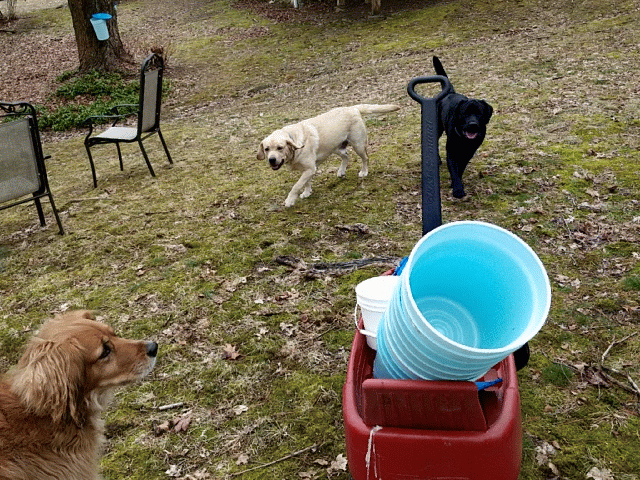 All News