Welcome to Mount Kisco Maple
Read about the latest maple syrup happenings in Mount Kisco, New York.
---
March 13, 2021
Twenty six taps can provide a lot of sap, so in only a few days, I had enough for another boil. It was a beautiful Saturday, and lots of people stopped by to watch the process and drink beer. Shout-outs to Markus, Mike, Ray, Barry, Chris, and Jon. And special thank to Dannielle who provided some awesome Italian combo sandwiches for lunch.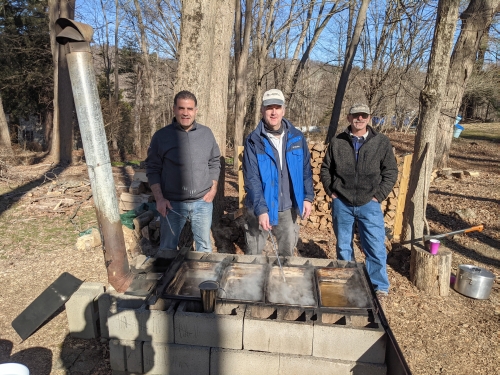 Ray, Jon, and Chris
The final yield was nearly 2 gallons. Three boils usually provide me enough syrup and feeling of accomplishment, so with the weather warming up and the sap slowing down, I decided to call it quits for the season. Another success.
---
March 10, 2021
Working from home during COVID has provided a lot more flexibility for making maple syrup. Instead of having to collect sap before going to work, or in the dark of night, I can wander out between meetings and tend to things in a more relaxed way. However, a boil day requires my full attention, and if the weather and sap conditions warrant a boil during the weekday, I let everyone know I am taking the day off. I like to get started at sun-up to fully utilize the day. I have all my equipment and tools prepared and ready to go the night before. I have also been making my own starter logs out of cardboard and recyclables instead of having early morning fire starting exhibitions for no one.
A mid-week boil in a normal year does not attract many visitors, but I can always count on Mike to put in a full shift at the pans. Mike has gotten so good at the process that I may even take a day off from boiling next season and leave him in charge! Eric and Mindy stopped by to visit the neighborhood and get some smoke in their eyes.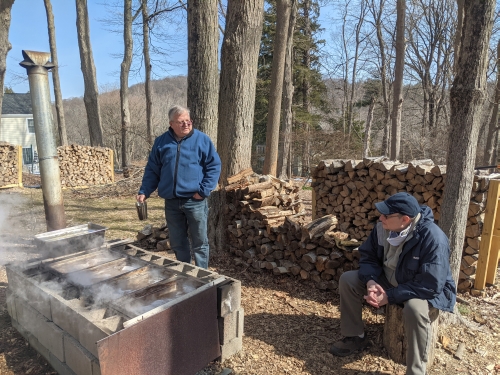 Mike and Eric
The eventual yield was a little more than one gallon.
---
March 1, 2021
I had a successful boil on Monday, March 1st. Mike was manning the pans and we operated like a well-oiled, socially-distant, machine, keeping a rolling boil all day.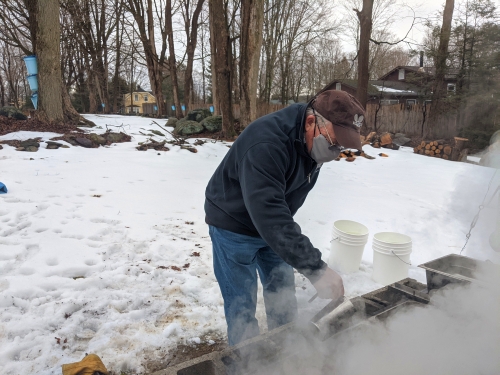 Over 60 gallons of concentrated sap were processed to around three gallons that I finished and bottled a few days later to nearly a two gallon yield. I sampled a lot during the process and all was tasty and delicious.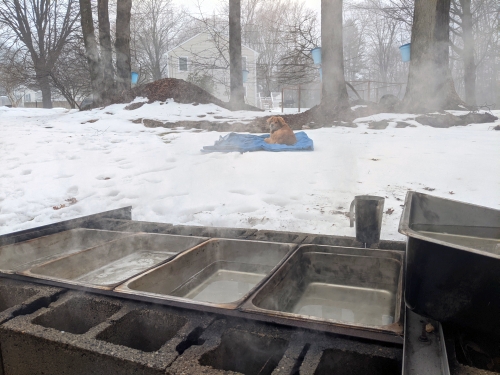 ---
February 28, 2021
A poorly titled announcement. Traditionally, I tap the trees on Super Bowl Sunday, but this year the temperature was below freezing until much later. I tapped 20 trees on February 16th, and a few of my neighbor Ray's trees a few days later. There were a few good days of sap running, and I've collected over 100 gallons of sap. I just ran it through reverse osmosis to about half the original volume and 4% sugar.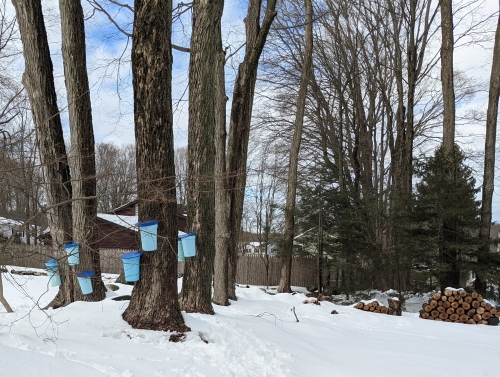 I will be boiling tomorrow, March 1st, the latest first boil in the last 10 years. Oh yes, this is my 10th year making maple syrup! Ten years ago, I spent almost an entire day outside to yield about a quart of maple syrup, and tomorrow only a few hours for over a gallon. My schedule is much more flexible this year; working from home and no social obligations. I can gather sap any time, and do some boiling between meetings. Like last year, when we became more aware of COVID, I don't expect many visitors to gather around the fire with me, but I will look back at the gallery photos, smiling about the good times over the past ten years, and looking forward to the next.

All News